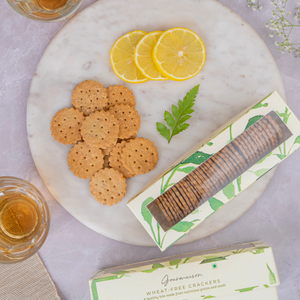 Our Cacio E Pepe crackers are baked to perfection, resulting in a crispy yet crumbly texture. Whether you're looking for a quick snack (it's wheat-free) or a delightful accompaniment to your favourite cheese, these crackers work so well!
Box includes 100-110gms 

Store in an air tight container away from sunlight.

Vegetarian.

Deliveries available Monday to Saturday.

In case of allergies, please inquire with us before ordering.

Limited slots available per day.

Same day delivery.