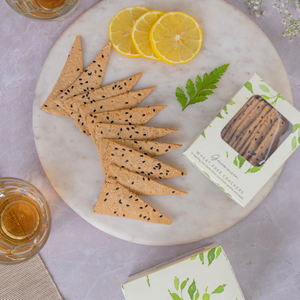 With the first gentle tear, the Lavaash reveals its delicate, paper-thin layers, a testament to the skilled craftsmanship that goes into its creation. As you take your first bite, the bread's subtle nutty undertones and a hint of sourness instantly captivate your senses.The toasted sesame seeds sprinkled on the surface add a delightful crunch and nutty aroma that complement the bread's tender, chewy interior. The Lavaash pairs perfectly with a variety of accompaniments, whether it's scooping up velvety hummus, savoring a zesty dip, or any of Gourmaison's signature cheeses.
Box includes 100-110gms

Store in an air tight container away from sunlight.

Vegetarian.

Deliveries available Monday to Saturday.

In case of allergies, please inquire with us before ordering.

Limited slots available per day.

Same day delivery.