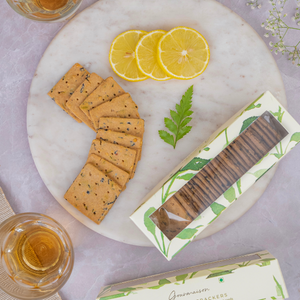 Made from premium, all-natural ingredients, our Rosemary and Thyme Crackers are a wholesome and flavorful treat. The subtle yet distinct combination of earthy rosemary and savory thyme creates a harmonious symphony of flavors, giving you a uniquely enjoyable snack that is both delicious and wholesome.
Each cracker is lovingly baked to perfection, achieving a crispy texture that is simply irresistible. Whether you enjoy them on their own or pair them with your favorite dips, cheeses, or spreads, our Rosemary and Thyme Crackers will add the perfect touch.
These crackers are not only a delight for your taste buds but also a healthier snacking choice. They are free from artificial flavors, colors, and preservatives, making them a guilt-free option that you can enjoy with peace of mind.
Box includes 100-110gms

Store in an air tight container away from sunlight.

Vegetarian.

Deliveries available Monday to Saturday.

In case of allergies, please inquire with us before ordering.

Limited slots available per day.

Same day delivery.