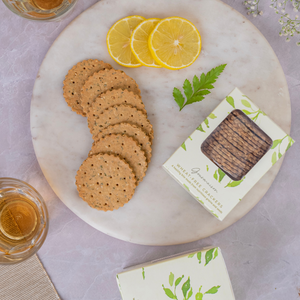 Our Sour Cream and Chives Crackers offer a delightful experience that balances creamy richness with a touch of herbal piquancy. The crackers boast a velvety, tangy taste of sour cream that perfectly complements the subtle, savory notes of fresh chives. With each bite, you'll encounter an interplay of smooth creaminess and aromatic herbal goodness.. These crackers are an irresistible fusion of flavors, making them a gourmet treat suitable for any occasion.

Box includes 100-110gms

Store in an air tight container away from sunlight.

Vegetarian.

Deliveries available Monday to Saturday.

In case of allergies, please inquire with us before ordering.

Limited slots available per day.

Same day delivery.