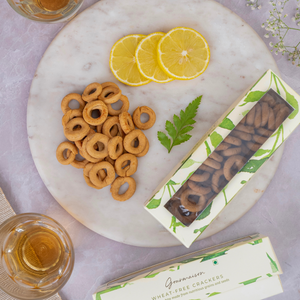 Crafted with love and expertise, these bite-sized delights offer a flavor that will transport your taste buds to the charming streets of Italy. The first crunch reveals a satisfyingly firm texture, reminiscent of the rustic countryside where these crackers were born. Infused with a gentle hint of extra virgin olive oil, each bite unfolds a rich, golden flavor that pays homage to the Mediterranean sun. The savory notes mixed herbs add depth and complexity to the taste experience. As you savor each piece, the subtle touch of sea salt lingers, perfectly balancing the flavors and leaving you longing for just one more bite. 
Enjoy our Italian Taralli crackers as a delightful accompaniment to your favorite antipasto platter, a crunchy sidekick to soups and salads, or simply as a standalone snack to satisfy your cravings for a taste of Italy. Prepare to be enchanted by the authentic taste of these delightful crackers, lovingly crafted to bring a piece of Italy to your table. Buon appetito!
Box includes 100-110gms

Store in an air tight container away from sunlight.

Vegetarian.

Deliveries available Monday to Saturday.

In case of allergies, please inquire with us before ordering.

Limited slots available per day.

Same day delivery.