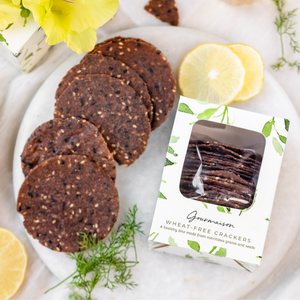 A cracker made from wild rice (also known as black rice), which is known to be rich in antioxidants. This wheat-free cracker is best paired with spreads and cheese that have a lighter texture, such as our Truffle edamame snow or Mediterranean spread.
Box includes 100gms (40-41 pieces)

Store in an air tight container away from sunlight.

Vegetarian.

Deliveries available Monday to Saturday.

In case of allergies, please inquire with us before ordering.

Limited slots available per day.

Same day delivery.